Trans-Flo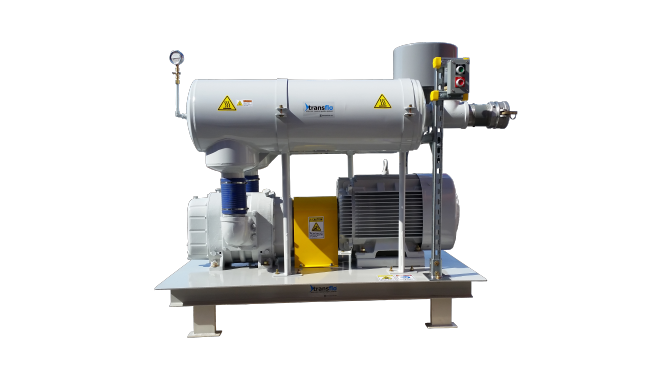 Trans-Flow Corporation pneumatic unloaders in 30 hp, 40 hp or 60 hp capacities unload any bulk dry granular material such as fly ash, fertilizer, lime, kaolin clay, powders, pelletized plastics and dry cement. They deliver a steady stream of low pressure air at 12 or 15 psi into the tanker through one pipeline and out through another. They can unload a bulk tanker up to 15 minutes faster than a turbo conveyor. The motor is totally enclosed, fan-cooled. Standard equipment includes an air intake filter, pressure safety valve and check valve. Outlet openings can be 3″ or 4″. This system can add to your profits by saving time, reducing energy costs, and reducing maintenance downtime and expense.
Features
Pneumatic Unloader
30, 40 or 60 hp, 230/460 volt, 60 Hz, 3 phase T.E.F.C. motor
Dry replaceable intake filter Mounted on steel reinforced base
Pressure relief valve for overload protection
Check valve
Cam lock hose connector with dust cap
Motor Size
(hp)
Air Flow
(cfm)
Air Pressure
(psi)
30
350
12
40
350
15
60
550
15
How to determine capacity requirements
Material density and pipeline length and design influence the choice of components. The table below will give you an idea of the density of typical materials handled. Please contact us and we will help you choose the correct size and capacity of system components for your application.
Typical Densities
(Pounds per cubic foot)
ABS pellets
34.7
Cement
96.0
Clay kaolin
74.1
Fertilizer #2
75.8
Fly ash
46.2
Nylon Pellets
47.3
Polystyrene
40.6
Click here for more information about products from Trans-Flo.
Photos