About Us
Who we are
Mid Atlantic Concrete Equipment, Inc. has been serving concrete producers on the East Coast for over 30 years. We sell and service concrete plants, automatic controls, dust control systems, concrete reclaimers, and water heating/cooling equipment.
Five things we believe
Not everybody needs new equipment. Sometimes that cranky conveyor just needs adjustment. And maybe a part or two.
You know things we don't know. If you're looking for know-it-alls, try the next booth. Here's something we do know: every concrete producer's operation is unique in some way.
Your plant can run more efficiently than it does now. We're pretty sure of that, based on our track record.
Concrete is here to stay and so are we. The Great Recession hit us hard just like everyone else. But we plan to be around for a very long time.
CON-E-CO plants really are better than other plants. We firmly believe that and we can provide the facts and figures to back it up.
History
Jay Robinson founded Jay Robinson and Associates in 1986, after serving as vice president and general manager of a medium-sized pre-cast concrete manufacturing firm. Jay's reputation as an honest and dependable source for concrete equipment, parts, and advice was soon recognized throughout the industry.
In 2005, Jay added his son, Marc Robinson as a partner. They decided on a new name, Mid Atlantic Concrete Equipment, Inc., reflecting the company's expanding influence as a  major supplier of concrete plants, equipment, and outstanding customer service in the Mid-Atlantic region.
Area served
From our corporate headquarters in Lititz, PA, we serve Maine, Vermont, Massachusetts, New Hampshire, Rhode Island, Connecticut, New York, New Jersey, Pennsylvania, Delaware, Maryland, Virginia, West Virginia, and Washington, DC. If you are not located in one of these states, please check CON-E-CO's dealer locator. If you are within our territory, we'd be glad to hear from you—give us a call today!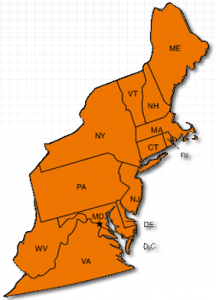 Proud members
We think it is important to support industry associations. We are members of:
NRMCA National Ready Mix Concrete Association
PACA Pennsylvania Aggregates and Concrete Association
MaCAPA Massachusetts Concrete and Aggregate Producers Association
MRMCA Maryland Ready Mix Concrete Association
VRMCA Virginia Ready Mix Concrete Association
For more information about us, feel free to visit the links below.