Infern-O-Therm Bulk Hot Water Heaters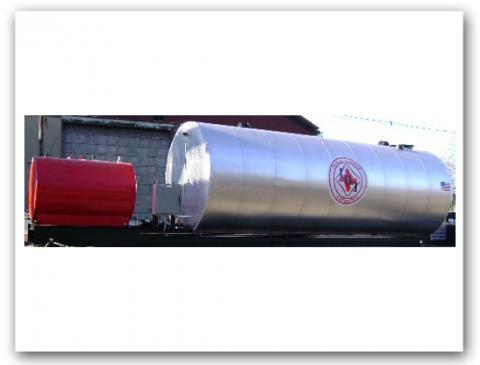 The Infern-O-Therm HW-Series hot water storage systems are designed for heating and storing water for concrete manufacturing during the cold seasons. These systems are also useful for applications where large volumes of heated water are required.
The Infern-O-Therm Concrete Water Heater HW Series provides tank sizes from 3,000 to 30,000 gallons, in both stationary and portable models. And because of our super-efficient IOT CLOVERLEAF combustion principle, you can always expect fast recovery and optimum fuel burn rates that maximize heat transfer efficiency.
Advantages
Heavy-Duty Storage Tank

All HW-Series tanks are built to last. Unlike competitive models, the inner shell is fabricated from ¼" thick steel plate for maximum durability and long life. These plates are overlapped and double welded concentrically for superior stability. The tank heads are made of 5/16" thick steel reinforced by twin, 6" wide vertical channels for maximum strength. Outer walls are wrapped with 3" THERMAFIBER insulation to prevent heat loss and oxidation. The outer skin of each tank is made of stucco-embossed .024" aluminum, providing a weatherproof seal and clean appearance.
Each tank is mounted on twin, heavy-duty skid supports for stability and ease of transport. A manhole clean-out port located at the top of the tank provides for periodic inspection and maintenance.

Efficient Combustion System

The unique design of the HW-Series combustion system reduces heating costs up to 50% compared to other heating methods. It provides the precise, chemically-correct combination of fuel and air to heat water at the lowest possible cost. A patented, CLOVERLEAF super-charger within the combustion chamber refocuses air and fuel from the primary chamber to ensure combustion efficiencies over 90%.

State-of-the-Art Burner Control

The burner control system of all HW models is designed for simple operation and minimal maintenance. It is fully-automatic with aqua-static temperature control and high-low water cut-offs. Inlet water is regulated by a flow control manifold to maintain constant temperature. The standard model is designed to work with number two fuel oil, but may be easily modified to burn natural gas or propane. The entire burner system utilizes brand name components. A weatherproof enclosure protecting the burner system is standard equipment on all HW models.

Heat Transfer System

Primary and secondary heat transfer tubes are designed to provide maximum fuel efficiency during the heating process. The combustion tube is fabricated from seamless steel pipe for optimum heat transfer and minimum maintenance. Infern-O-Therm's unique sprinkling system offers a uniform distribution of water and integration of cold water into hot-eliminating costly cold spots.
The HW hot water heating and storage systems by Infern-O-Therm offer a low-cost, highly efficient method of producing and storing large volumes of hot water for concrete manufacturing and other similar applications.
On a tight budget? Check out Econ-O-Heat models with 1,000 to 10,000-gallon capacities. Of course, all IOT burners use UL-approved controls and components.
Features
Many models to choose from. Tanks can be custom built to meet your hot water needs. All units are available in straight #2 fuel oil or combination natural gas/oil fired.
Heavy duty lifting lugs for easy lifting and positioning.
Thick inner shell with overlapping joints for maximum durability.
Three-inch thick insulation prevents heat loss.
Corrosion-free aluminum jacket.
IOT manufactured burner with UL approved controls (UL approved burners upon request)
All tanks built to UL 142 standards.
Wide manhole cleanout port for inspection and maintenance.
Sprinkler system eliminates cold spots.
Primary/secondary heat transfer tubes for maximum efficiency.
Twin-skid supports for ease of transport and set up.
CLOVERLEAF supercharge gives over 90% combustion efficiencies.
For further information on Infern-O-Therm Concrete Water Heater HW Series, contact us.
Photos