BHS Twin Shaft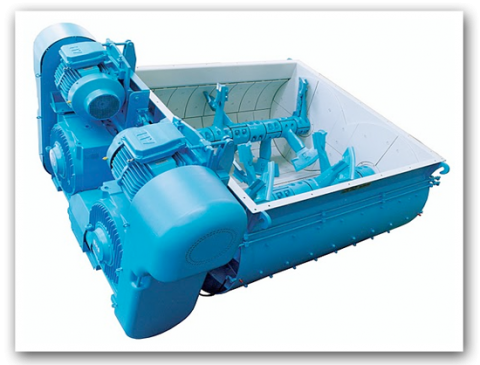 Advantages
Consistent, high quality mixing

The counter-rotating motion of the two mixing shafts as well as the inclined position of the mixing tools assure an intense vertical and horizontal motion of the mix. A uniform superior mix complying with the desired mixing formula is guaranteed.

Material bed as wear protection

A material bed is formed when handling and biding materials, which represents a protection against wear. For special applications lining of the mixer trough is optionally also available with cast wearing elements.

Simple Maintenance

Utilizing a very rugged construction, the mixer requires only minimal routine maintenance work. There are large maintenance doors on the top and bottom side.

Sturdy Drive

The drive system of the mixer is long-lasting and reliable. It conforms with the approved principles of the well-known BHS Twin-Shaft Batch Mixer. It can even cope with shock load and restart under full load.

Consistent high level homogeneous mixture within rapid mix cycles

Homogeneous mixture levels of 95% are achievable within 30 seconds
Batch after batch our mixers produce high level uniform and homogeneous mixtures
BHS Mixing techniques preserve the grain structure of the individual recipe components

High energy efficiency

High mixture performance is achieved at low speeds
Reduced energy consumption due to short mixing cycles,effectiveness of mixing tools and efficiency of drive units

Low-wear

Minimal wear of mixing tools and trough liners achieved from lower mixing speeds and mixer compact design
Reduced wear to internal mixer surfaces in relation to mixture volume
All wear parts have been optimized and designed for longevity

Efficient concrete production

Rapid and optimal bonding of cementitious particles
Potential of reducing cement content due to uniform and consistent mixture of all particles
Consistent and rapid distribution of admixtures and additives throughout the entire mixture volume
Batch to batch consistency for all mix designs
Minimum batch filling levels of 10% are possible
Guaranteed to mix special concrete recipes (SCC, RCC, UHPC, etc.)
Hybrid mixing cycles are possible (slow-fast-slow)

Click here for more information about products from BHS.
Photos