EcoHeat by CEI, Inc.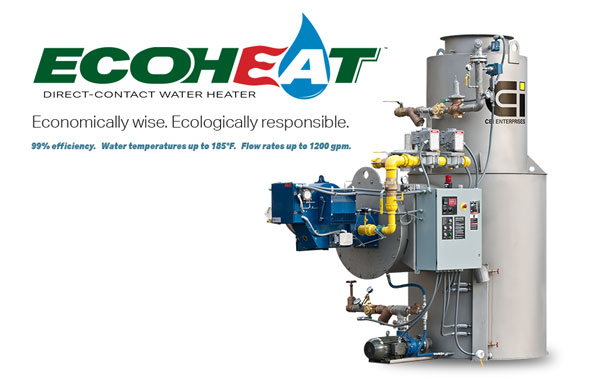 ECOHEAT™ direct-contact water heaters heat water on-demand, up to 185°F, for use in cold-weather concrete production. With available flow rates up to 1,200 gallons per minute, you don't have to worry about having hot water when you need it. Moreover, by heating water as it is needed, you don't waste the added fuel expense of maintaining the temperature of water stored in large water tanks.
Economically wise. Ecologically responsible.
Advantages
Economically Wise. Because it is an instantaneous heater, you could see your gas bill drop immediately. It only burns the amount of fuel it needs to give you only the amount of hot water you need — when you need it.
Ecologically Responsible. Due to the heater's incredibly high efficiency, your operation can become more energy efficient and ecologically progressive by lowering emissions.
Consistent. Proven. Solid. Consistent water temperatures mean consistent concrete temperatures and production without dips and dives. These heaters are factory-tested prior to shipment. The design is proven: time-tested and production-tested at many ready-mix companies. As one plant operator commented: "All I have ever done is turn it on when I come in in the morning, and turn it off when I leave at night." It's solidly built to higher standards than other heaters you've seen, and it's field-proven to give you fast, consistent results.
Parts & Service support are readily available by contacting us at 888-378-6237.
Features
Full-Modulation Burner fires into the combustion chamber mounted on the side of the heater shell. Incoming cold water is sprayed downward from the top section of the heater. This water cascades downward through stainless steel packing. The packing temporarily slows the flow of water, and provides plenty of surface area for heat transfer. Hot burner gases flow upward from the combustion chamber, through the bed of stainless steel packing. Falling water is heated by direct contact with the hot burner gases. Hot water then falls into the collection area at the bottom of the heater, where it accumulates momentarily before being pumped to your concrete mixer.
Stainless Steel Structural Components, piping and internal parts ensure durability and long service life. A hinged door on the upper section of the heater provides for inspection and maintenance of the stainless steel packing.
UL-rated, NEMA 4 Control Panel is the nerve center of the heater's safety systems and PLC controls. Compliance to UL standards not only assures you of the quality of the electrical system, it also puts your insurance company at ease, potentially bringing you lower premiums. The NEMA 4 enclosure provides watertight protection against splashing water, hose-directed water, rain, sleet, snow, ice, dirt, and windblown dust. Panels that meet CSA specifications, and other NEMA standard enclosures are available optionally.
Safety Features integrated into ECOHEAT water heaters provide for safe, unattended operation. Burner controls include a Fireye Flame Monitor to provide microprocessor-based burner management. This ensures that all safety limits are met before the burner is fired. Low-level switches prevent the burner from firing unless water is flowing through the heater. This prevents the walls of the heater from being damaged by overheating. High-level switches shut off the burner and incoming water flow.